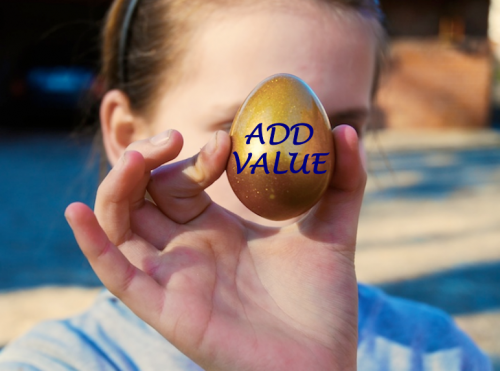 There are many methods and tools to help make marketing endeavors more efficient, effective, and productive, but the fact is it takes hard work to accomplish anything.  That said, there is something that can be done to grease the wheels, so to speak – Marketing and communications professional should start with how they can provide value to their audience if they want to better the effectiveness of their efforts. Let me repeat that in a different way so that it drives home the point – Provide value to your audience if you want to be appreciated and more effective. People appreciate being cared about and being provided value which they will hopefully return with loyalty.  Relationships are not built overnight or with one campaign.  They take time, multiple touch points, and concern for the other person's interests.
To build valuable relationships you need to inject them with value to begin with. So, how do you lead with value?  It's about being a provider or expertise, resources, knowledge, support, attention, and reciprocation. I know it's tough to give things away and think long term when we all have revenue goals or deadlines that are increasingly urgent. There will always be the need to have promotions to spur demand or entice immediate action, but these don't work unless you have already established a relationship with your audience as a valuable, trusted provider. It is rare somebody who is unaware of you or your offering will jump at a promotion unless they already know a little something about you. Below are some ways you can add value to build relationships.
1. Start a blog, podcast or vlog. Provide valuable content by sharing tips and expertise. Don't just populate it with opinions, company news, general musings, and chest thumping. Enlist the smartest people in your organization to contribute their knowledge.  Say the kinds of things you would as if you were doing a client consultation.  Give people something to remember and that they can use. Update the content consistently and frequently.  Where appropriate, use Email, Twitter, Facebook and LinkedIn to broadcast the release of new posts.
2. Offer a free download or consultation. This could be an ebook, audit, or limited version of your application.  Make sure to capture basic information of the people that take advantage of the offer. Perhaps provide a series of downloads or schedule a follow-up on your consultation.
3. Provide a free trial. This is similar to the above but would be a full featured offering with a limited time frame.
4. Conduct seminars or workshops. The ability to broadcast seminars over the internet (Webinars) has become very popular since it's a cheap alternative to renting a physical location and getting people to it. However, workshops in a target market where there is a high concentration of prospects is likely more effective due to the face-to-face aspect.
5. Create a solid FAQ or Resource Library regarding industry knowledge. Many prospects and customers need education about their purchase and don't even know what they need to know.  Help them get up to speed.
Providing value is a long term strategy, but think of it as a gradual inclined walk as opposed to climbing a wall quickly which takes considerably more effort not to mention risk. Relationships take work, but they're the most important part of any strategy. Every relationship starts with providing value. Results will follow.
What are your thoughts? Please comment below OR send me an email OR give me a call at 306 229 9437. I'd like to hear from you!
[related-posts]