Often the social media marketing examples you hear about are those with large budgets, but this post will celebrate companies with small budgets who are using creativity and good design to attract an audience. Saskatoon is a small community when it comes to marketing expertise and we are often too humble to blow our own horn – So, I'm going to blow some horns on other's behalves.
Below is a list of Saskatoon organizations that are doing a great job with their social media marketing despite having small budgets – Studying them can help you learn what it takes to attract an audience by being creative, targeting your audience, and making use of online tools.
SCAT Street Cat Rescue
Advocating the adoption of stray animals is a noble cause and most people have a soft spot in their hearts for animals in need.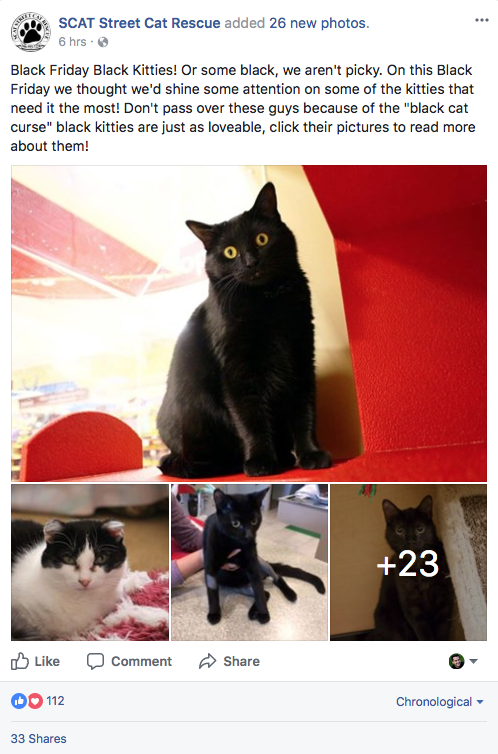 So, it shouldn't come as much of a surprise that SCAT Street Cat Rescue has a lot of social support. That said, they operate on a shoestring budget and rely heavily on volunteers and donors to stay in operation. Using social media marketing is a perfect fit for this organization and they do not waste the opportunity.
Specifically, the Facebook page for SCAT Street Cat Rescue is an excellent example of posting content that generates engagement and encourages shares. They do an excellent job of sharing cute pictures and videos of their cats along with sharing positive stories of adoption. One of my recent favourites was their "Black Friday Black Kitties" post that piggybacked on the "Black Friday" shopping trend by showcasing all the black cats they have for adoption.  The post received 112 likes, 33 shares, and encouraged others to reply with pictures of their own black cats.
What can you learn from them? They know they're audience and what content will resonate. They rely on the power of their social network to share and bring awareness to the needs of stray cats. Almost any organization that has a social cause can benefit from using social media to help spread their message. People like to share things that make them feel like they're helping a cause.
Our Collective Muse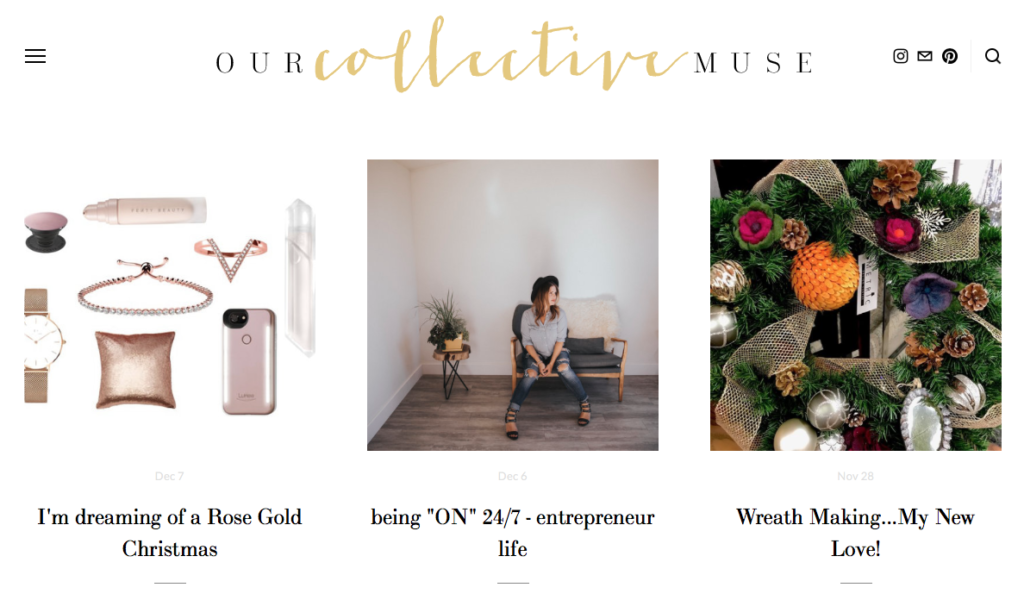 Not so much a company but rather a Saskatoon-based lifestyle blog, Our Collective Muse describes itself as a "collective lifestyle blog by women for women". It shares all sorts of female oriented content from fashion, event, and decor tips to from-the-heart posts on motherhood and sisterhood.
The group of women leading this collaboration revel in sharing content they hope will be useful to other women trying to balance careers, families, and personal wellness. Their website is classy and they strategically use social media channels that have a majority of female users – Their Instagram account, in particular, has exceptional photography that appears to use a common aesthetic that keeps a cohesive look to the content being shared. A great example of using social media content for building their brand's image.
What can you learn from them? They make use of a full-service website platform called squarespace that allows people without much programming or technical skills to get a professional looking website created in short order. They also have a strict design aesthetic they adhere to and use the services of a professional photographer – high quality images can make or break your social media efforts. If you can't afford a photographer and don't like typical stock photography, then check out Unsplash for beautiful free photos with cool design.
Hometown Diner
This 20th street restaurant is a relative newcomer to the Saskatoon food scene, but they're doing a lot of things right from a social media marketing perspective. Case in point, they have already created enough of a reputation to warrant a visit from Canadian Prime Minster, Justin Trudeau, during his December 2017 visit to Saskatoon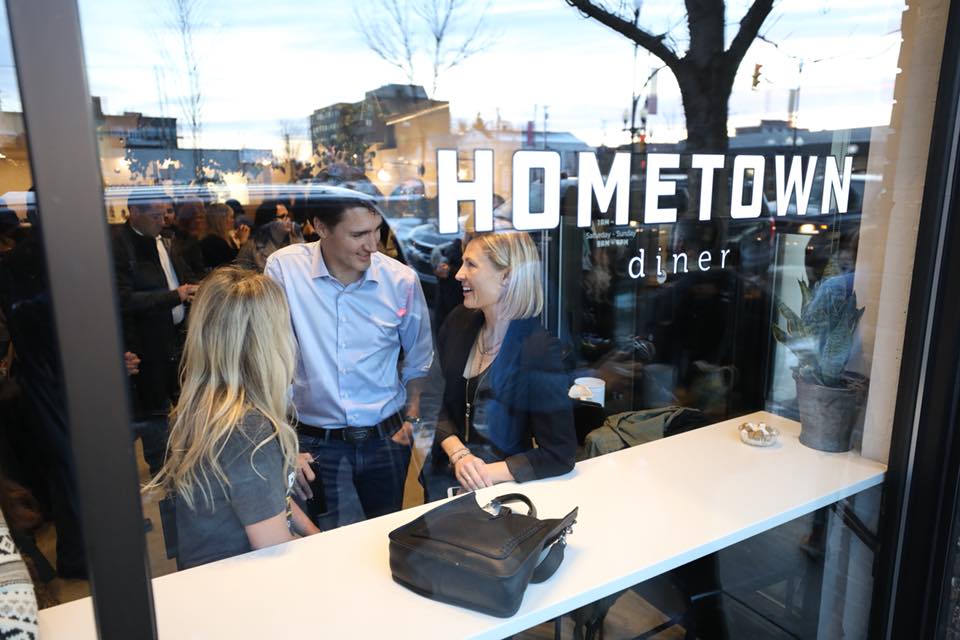 The above image of JT mingling with restaurant patrons was taken from the Hometown diner facebook page, which is exceptional at sharing nice photography of their food. Most their photos appear to use a common "look" and this is most apparent on their Instagram page which has over 4,300 followers. Hometown diner certainly understands that people eat with their eyes and their social media marketing targets this with aplomb. Hometown diner does have a small website, but most their online marketing efforts go into creating delicious content for social media.
What can you learn from them? Aside from having a good eye for food presentation, Hometown Diner makes use of photo editing tools to put captions and design elements on their photos that help them standout. There's a number of apps you can get for your phone that allow you to markup photos, so just take a look at a list of some popular apps that allow you to get creative without needing expensive photo software.
Sask Professional Marketing Association (SPMA)
The SPMA does a good job of their social media marketing, but unlike many other not-for-profit associations they have no outside financial assistance and no paid employees. The association is 100% driven by volunteers and the support of it's membership. In the past couple years the association has really stepped up its social media efforts thanks to the work of Britney Graf and Chris de Jong who lead the communications.
The SPMA uses social media beyond just promoting themselves; they try to regularly share content that would be of interest and value to the marketing community. They serve a higher purpose than simply attracting members and in turn this helps them attract members. The SPMA is engaged in content marketing that converts its online following into in-person gatherings. Followers become members and members become friends (Disclosure: I am a co-founder and ongoing advisor to the SPMA).
What can you learn from them? Content curation and scheduling is tedious work so the SPMA makes use of HootSuite to plan its posts. If your organization struggles with generating content, consider using aggregator tools that deliver content to you based on specific themes – For marketing inspiration I personally like to use The Matboard. If you want original content then consider hiring writers through a platform like zerys that can produce quality blog articles for as little as $50-$100.

Do you know of any other companies doing creative social media marketing with small budgets? Feel free to share – Tis the season for giving so don't be shy to leave a comment below! Thanks for reading and have a Merry Christmas.